Episode 64 – Riding the Technology Adoption Life Cycle Curve in MedTech with Geoffrey Moore, Author, Crossing the Chasm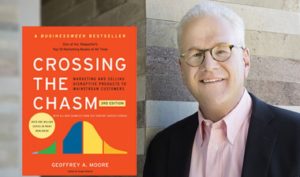 This is a special episode.  Our guest today is Geoffrey Moore, Author of Crossing The Chasm: Marketing and Selling Disruptive Products to Mainstream Customers which is on Inc. Magazines list of top 10 Marketing Books of All time.  He has written several other books on marketing relative to disruptive technologies.  Geoff is highly regarded throughout the high-tech world. Today, Geoff will take us on a tour of the Technology Adoption Life Cycle and then we dive into details of early market challenges and then the ultimate challenge of crossing the chasm into the mainstream market. We talk about disruptive technologies, early adopters, key opinion leaders, signs you are approaching the chasm, the pragmatists on the other side of the chasm, pragmatists in pain, the bowling alley, the tornado, mistakes to avoid and much much more. By the way, in our discussion the terms visionary and early adopter are interchangeable.  Also, the terms pragmatists and early majority are also interchangeable.  Everyone involved in leading a MedTech company and marketing and sales will learn a lot from this episode.
You will hear me refer to several attendees to this event. Three countries are represented. The Netherlands, the Czech Republic and the United States.  These people are all members of the MedTech Leaders community.  I always set up interviews as live virtual events so members can attend.  If you want to learn more about the community, go to medtechleaders.net.
Now Go Win Your Week!
Geoffrey Moore's LinkedIn profile link
Geoffrey Moore's website link
Great books by Geoff:
Crossing the Chasm, Marketing and Selling Disruptive Products to Mainstream Customers. This third edition brings Moore's classic work up to date with dozens of new examples of successes and failures, new strategies for marketing in the digital world, and Moore's most current insights and findings.
Zone to Win – Moore's classic bestseller, CROSSING THE CHASM, has sold more than one million copies by addressing the challenges faced by start-up companies. Now ZONE TO WIN is set to guide established enterprises through the same journey.
Escape Velocity – Addresses the central dilemma established firms face: how to continue to harvest past success while driving the organization, its people and its processes, toward future growth and opportunities.
Inside the Tornado – A follow-on work to Crossing the Chasm that deals with the dynamics of post-chasm markets, in particular the market share battle during hyper-growth that results in the anointing the market leader or gorilla.
Ted Newill's LinkedIn Profile link
More Medical Device Success podcasts link
Medical Device Success website link
MedTech Leaders Community link
Link to Ted's contact page