Episode 65 – Big Changes and High Demand in MedTech Recruiting with Paula Rutledge and Chris Miclot, Legacy MedSearch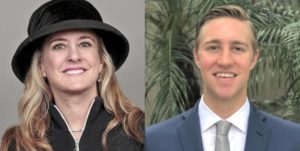 "More change in the last 18 months than in the past 30 years."
Over 30 years ago, Paula began her career in the medical device industry and in 2005, founded Legacy MedSearch and turned it into one of the most highly sought after MedTech search firms in the USA.  Despite being a small boutique company, Legacy MedSearch has been honored as one of the 100 "Forbes Best Recruiting Firms in America" out of the 20,000 search firms for the last three years. (Note, they do have international clients as well). With Paula and Chris's help, we will explore the big changes taking place in recruiting whether they are hiring a sales force or they are helping an emerging growth company fill out its C-Suite and/or Board of Directors.  They also talk about how Legacy MedSearch literally becomes embedded in the strategic planning and executive sourcing for emerging growth companies.  Here is a hint regarding the big changes – some C-Suite positions are being filled entirely virtually. That's right…with no face-to-face interview.  And, it is a candidates market.  Paula and Chris will explain why and what that means to candidates and employers.  Are you prepared for this new environment?  They offer great advice and resources. Regardless of your functional position in MedTech, you will find this very informative and helpful.
As in the past couple podcasts, you may hear me refer to a couple members of the MedTech Leaders community asking questions in the chat.  If you want to learn more about MedTech Leaders go to medtechleaders.net.
If you get value out of this podcast, please consider giving it a rating on your podcast provider, sharing it with a friend and/or subscribing.
Now Go Win Your Week!
Paula Rutledge LinkedIn Profile Link
Chris Miclot LinkedIn Profile Link
Legacy MedSearch website link
Candidate Solutions Page Link
The Thoroughly Prepared Candidate Interview Guide Link
Employer Solutions Link
Medical Device Guru Link
Ted Newill's LinkedIn Profile link
More Medical Device Success podcasts link
Medical Device Success website link
MedTech Leaders Community link
Link to Ted's contact page