Episode 70 – In the C-Suite with Patricia Zilliox, CEO, Eyevensys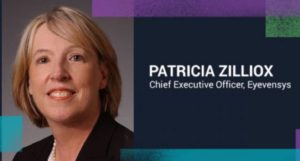 Today's guest is Patricia Zilliox, CEO of Eyevensys, a clinical stage biotechnology company based in Paris, France and Dallas, Texas. Patricia is running a very exciting startup that combines a medical device and gene-therapy that is targeting some of the biggest causes of blindness. The idea behind this biotechnology is the brainchild of Founder Francine Behar-Cohen, MD, PhD.  What I find fascinating is the fact that they do not use a virus to transport the therapy.  Instead, they turn a little muscle in the eye into a protein factory.  There are advantages to this approach that you will learn about in a few minutes.   We will talk about the technology, Patricia's career and some of the early challenges in being in her first CEO role.
If you like this podcast, be sure to recommend it to a friend and or subscribe. An easy way to share the podcast is by using the share button on your podcast provider.  Links to Patricia's LinkedIn profile and the Eyevensys website will be in the show notes.
For those of you looking for a community of like-minded MedTech professionals, consider looking at the MedTech Leaders Community.  I am the host of this community.  You can learn more at medtechleaders.net.  One advantage of being in the community is that most of these podcasts/video casts start out as live events.  Members can attend and ask questions.  And I am working on events related to AI in MedTech, Value Based Care, Telehealth, marketing and sales and of course more C-Suite interviews.
Now Go Win Your Week!!
Patricia Zilliox's LinkedIn Profile link
Eyevensys Website link
Ted Newill's LinkedIn Profile link
More Medical Device Success podcasts link
Medical Device Success website link
MedTech Leaders Community link
Link to Ted's contact page